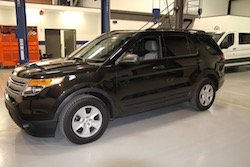 Blossman Services is developing a Bi-Fuel Propane Autogas Ford Interceptor for use for the law enforcement community. The company also offers other propane autogas vehicles including EPA emissions certifications for the Dodge Charger, Chevrolet Tahoe, Ford Crown Victoria, F150 and now the Interceptor.
According to Blossman, the bi-fuel system conversion on the Interceptor is precedent setting in that no intake manifold drilling, cutting, or splicing of wiring is required. The plug and play conversion will offer an additional 21 gallons of useable fuel and offer no comprises to the vehicle's current safety or operational benefits.
The Bi-Fuel Propane AutoGas Ford Interceptor will be available this spring.