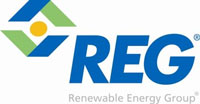 Biodiesel giant Renewable Energy Group is adding to the locations that will be selling its green fuel. This company news release says REG Energy Services will be offering additional biofuel blends in New York, Minnesota and Iowa.
REG Energy Services, LLC will offer ultra-low sulfur heating oil and diesel (ULSHO/ULSD) blended with up to 20 percent biodiesel at its New Hyde Park, NY terminal. In addition, ULSD blended with biodiesel will be offered at Minnesota terminals in Alexandria, Mankato, Roseville and Rochester and Iowa terminals in Mason City and Des Moines. This adds ULSD to REG's existing biodiesel offerings at those locations.
This is the first time REG Energy Services will offer biodiesel fuel blends along the Magellan Midstream Partners terminal system in Iowa and Minnesota. Iowa has a 4.5 cent per gallon incentive for retailers utilizing blends of 5 percent and above. Minnesota has a B5 requirement in the winter when using ULSD and B10 during the summer months.
"This expansion of REG Energy Services provides further access to our fuel portfolio in the Northeast and Midwest markets where we will now offer biodiesel fuel blends in addition to REG-9000™ biodiesel," said Gary Haer, REG Vice President, Sales and Marketing. "Biodiesel blended fuel provides a convenient solution that further improves REG's ability to better meet our customers' needs and growing demand, while enhancing America's energy and food security, and our environment."
Iowa-based REG now offers fuel at 34 locations across the US.