Orrie Swayze, from Wilmont, South Dakota is a long-time ethanol advocate and has been involved with the American Coalition for Ethanol (ACE) since its inception more than 20 years ago. He has been following the progress of the Environmental Protection Agency's (EPA) writing of the final 2014 final rule for the Renewable Fuel Standard and as a retired farmer, he is not happy with their direction. While no one knows what the renewable volume obligations will be for obligated parties this year (yes, the EPA is way behind should be releases the proposed rule for 2015 in November) there is grave concern among the renewable fuels industry that volumes will be lower than mandated by the law and from years past.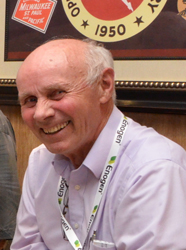 Swayze is speaking out. "The EPA deceitfully created E10 blend wall destroys free enterprise's role deciding corn prices because it locks a potential new five billion bushel demand for corn out of the market," he says. "Free enterprise cannot play a legitimate role in corn and auto fuels markets when EPA's dishonest policies limit ethanol's auto fuels market participation to ten percent. Countering free enterprise principles EPA picks gasoline as auto fuels market winner by deceitfully claiming high octane E30 is illegal to use in and damages standard auto engines."
He notes that unlike gasoline, ethanol does not contain or emit harmful tailpipe emissions that are particularity harmful to children and the elderly. "Therefore it isn't Clean Air Act defined tampering or illegal, as EPA alleges, to fuel standard autos with E30 because it decreases known human carcinogenic tailpipe/evaporative emissions 30 percent," explains Swayze.
"Importantly, auto companies urgently request EPA to raise minimum gasoline octane levels," he continues. "Autos endorse ethanol's high octane E30 but ridicule low octane E15. E15 cannot provide E30's air cooling turbocharging effect and 93 'safe' octane that's required for optimized, efficient high compression engines. Engines autos need to be competitive in international markets plus meet 2017 café standards."
South Dakota farmers have a deep experience of producing corn and ethanol with the state producing nearly a billion bushels of corn plus a billion bushels of ethanol each year. "We all have hit EPA's fraudulent blend wall evidenced by a dollar plus lower tumbling corn prices and necessarily all grain/ethanol prices," says Swayze. "The economic impact of government's war on E30 use in standard autos creating the e10 blend wall will obviously extort several billion dollars annually from SD's economy alone."
Swayze concluded, "Incredibly state government, corn and ethanol organizations assure the blend wall stands firm today: They irresponsibly agree with EPA's big oil sponsored fabrications that built the blend wall: E30 is illegal to use in and damages standard auto engines." He is asking corn growers associations and ag associations to stand firm on ethanol and be more proactive in fighting Big Oil who is perpetuating myths about ethanol.