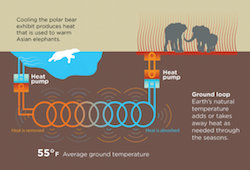 What in the world do polar bears and elephants have to do with renewable energy? Lots with a creative use of geothermal energy at the Oregon Zoo where an underground heating-cooling system will improve energy efficiency. Polar bears like it cool and elephants like it hot and with the help of "Slinky" or a geothermal loop, the two endangered species will keep each other comfy. The innovative high-tech system will be buried 12 feet underground.
"Essentially, this system works the same way as your household refrigerator," explained Jim Mitchell, zoo construction manager. "The condenser that cools the coils in your refrigerator produces heat, which is expelled away from the coils with a fan. Our system has just added another step: capturing that heat for use elsewhere rather than blowing it all away."
According to Mitchell, heat is created as a byproduct of cooling the polar bear swimming pools at the zoo. And rather than just expel that heat, the geothermal system will direct it through rows of Slinky-like coiled pipes buried deep in the northern section of Elephant Lands.
The ground maintains a constant temperature, insulating the pipes. Then, when it's time to crank the thermostat, pumps connected to the system will deliver heat to Forest Hall, the 32,000-square-foot indoor portion of Elephant Lands.
The geothermal loop and other energy-efficient design systems are expected to cut Elephant Lands' energy requirements in half, reduce greenhouse gas emissions by 40 percent and serve as the primary heat source for what will be one of the country's largest indoor elephant facilities.
Eventually, other renewable sources of heat will be fed into the geothermal system. While it won't be readily apparent to visitors, the roof at Forest Hall will feature a huge array of solar panels.
"Gradually, we may eliminate the need for fossil fuels at the majority of buildings and exhibits at the zoo," Mitchell said.
Curator Bob Lee, who oversees the zoo's elephant program said of the project, "The beauty of this system is in how it gives elephants choice. Most of the time, the elephant family will be able to move freely indoors and out, and we'll be able to sustainably maintain a comfortable temperature for them."