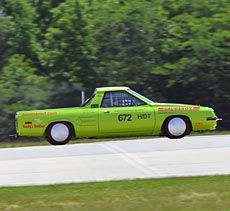 A truck running on biodiesel made from algae and safflower seed oil was tearing up the salt flats known for their speed records. This story from KSL in Salt Lake City, Utah says the Utah State University truck first set a record of nearly 135 miles per hour… about 30 miles faster than a small-engine diesel truck has ever gone before… using regular diesel. Then it was time to put the biodiesel blend to the test at the Bonneville Salt Flats.
Michael Morgan, a research assistant at Utah State University, was out to prove something.
"Not only can we run it in our everyday cars, but when we want to, come here and run it as fast as we possibly can," he said.
The diesel fuel his team made with algae and safflower seeds can stack up to the real thing, he said.
"I know that the world only has so many resources. We're using them up quickly," he said.
The 20 percent biodiesel blend pushed the truck over 100 miles per hour, but since the salt flats does not take records made using biodiesel, it was just for exhibition.
The group from Utah State dedicated the run to former colleague Dallas Hanks, a great biodiesel advocate from the school who died of cancer this past June.
"We want people to know about the work that he did," Morgan said.