California is leading the country on plug-in electric vehicle sales and has surpassed the 100,000 sales mark since the market started in 2010 according to the California Plug-In Electric Vehicle Collaborative. California Governor Brown has set a goal to have 1.5 million EVs on state roads by 2025.
"California's plug-in electric vehicle market is ramping up, and we expect to see significant growth over the next ten years as customers realize how economical and convenient they are," said California Plug-In Electric Vehicle Collaborative Executive Director Christine Kehoe.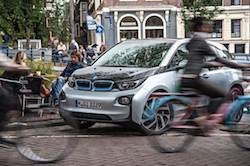 According to data collected by the California Air Resources Board, new sales figures released this week from hybridcars.com and Baum & Associates, a Michigan-based market research firm, Californians bought 102,440 PEVs from December 2010 through August 2014 accounting for nearly 40 percent of all PEVs sold in the U.S.
In addition to automakers rolling out dozens of plug-in electric vehicle models for consumers over the next couple of years, utilities are working to provide a clean, reliable and affordable fuel source for plug-in car owners. Drivers also have increasing options to refuel at home overnight or charge at workplaces across the state.
"Electric vehicles are an integral part of California's cleaner future. With more than 10,000 electric vehicles on the road in the San Diego Gas & Electric service territory today, it is evident that our customers are embracing the benefits of clean electric transportation," said James P. Avery, SDG&E senior vice president of power supply. "SDG&E is committed to providing our customers with the clean energy, attractive electric rates and resources needed to support their electric vehicle needs."
According to California Plug-In Electric Vehicle Collaborative driving on electricity is the equivalent of driving for $1 per gallon of gasoline while a gallon of gasoline hovers around the $4 mark in some areas.
Richard Lowenthal, founder and chief technical officer of ChargePoint, a leading company installing EV charging stations at a myriad of public locations throughout the state said of the announcement, "We're pleased to be providing clean, affordable fuel for a growing number of drivers across the country. Gasoline is 4 dollars a gallon in California and rising. Consumers want alternatives and we're here to help make the best alternative – electricity — more accessible, and to make electric vehicles more appealing."