Somoa has its operational first wind farm. The 'cyclone proof' project is located on the Samoan island of Upolu. Home to nearly 75 percent of the population the wind farm will supply 1,500 MWh of power per year, delivering U.S. $475,000 in annual fuel cost savings.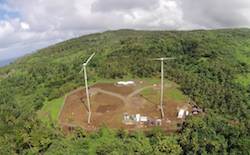 The pioneering project in Samoa includes two 55 meters high turbines that can pivot at the base, and be lowered and locked in place in less than 1 hour. This collapsible design helps to avoid damage from the region's numerous cyclones.
The Samoan Prime Minister, the Honorable Tuilaepa Aiono Sailele Malielegaoi marked the event with an inauguration ceremony just days before the start of the United Nations' Third Conference on Small Island Developing States, in Samoa's capital.
"This UAE supported project, and others like it underway across the Pacific, unlock significant economic and social benefits across the region. By providing local sources of renewable energy and reducing reliance on imported fuels, the UAE is helping countries like Samoa realize its development ambitions, while also delivering valuable clean energy infrastructure," said His Excellency Dr. Sultan Ahmed Al Jaber, UAE Minister of State and Chairman of Masdar. "Renewable energy has the potential to be a major contributor to the energy mix in developing countries, acting as a catalyst for greater socioeconomic opportunity. Today's inauguration reinforces the UAE's commitment to advancing and deploying renewable energy globally."
The project was developed by Abu Dhabi-based Masdar and is the second completed under the United Arab Emirates' (UAE) $50 million Pacific Partnership Fund that is managed by Abu Dhabi Fund for Development (ADFD). The UAE Pacific Partnership Fund supports the deployment of renewable energy across Pacific island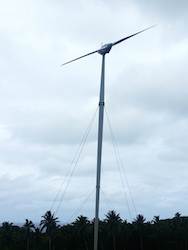 states and represents one of the largest-ever investments in clean energy across the region. The grant is managed by the Abu Dhabi Fund for Development, and coordinated by the Ministry of Foreign Affairs, Directorate of Energy and Climate Change. Masdar partners with each nation's government and leads the design and implementation process.
The Prime Minister of Samoa, the Hon Tuilaepa Aiono Sailele Malielegaoi, added, "The new wind farm delivered by Masdar and funded by the ADFD is a significant step forward in Samoa's transition to a more sustainable energy future. This has been possible thanks to the support of Abu Dhabi and the United Arab Emirates, and their commitment to advancing sustainable development. Access to renewable energy is vital to our long-term economic development, even beyond the substantial gains realized by cutting our dependence on imported fuel."
First announced during Abu Dhabi Sustainability Week in January 2014, the Samoan wind farm is the second project to be completed under the fund. Masdar is also currently progressing solar PV projects in Fiji, Kiribati, Tuvalu, and Vanuatu. A 512 kWe solar PV installation in Tonga, achieving nearly 70 percent grid penetration, was the first project to be completed.