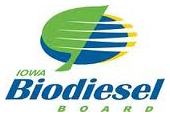 As one of the nation's leaders in biodiesel production, it comes as no surprise that Iowans are supportive of the green fuel. But a new survey shows that support is practically through the roof! The Iowa Biodiesel Board says a new survey of registered voters shows that more than three-fourths of those asked not only support biodiesel, but they want the federal requirement for the fuel to increase. And nearly the same amount say a Congressional candidate's support for the Renewable Fuel Standard was an important factor in their voting decisions.
The 77 percent figure came in response to the question, "Do you support or oppose expanding the national Renewable Fuel Standard, which requires blending some renewable fuels into the nation's fuel supply, to increase biodiesel use in the United States?"
What's more, 69 percent said a Congressional candidate's position on the RFS was "very" or "somewhat" important.
There are four U.S. House seats and one U.S. Senate seat up for election in Iowa.
The survey comes as biodiesel producers are feeling a lot of market pressure because of the Obama Administration's proposal to slash the RFS biodiesel target far below last year's production of nearly 1.8 billion gallons. It also comes as candidates are making a big push for that November vote.