You may soon begin to see children in California heading to school in an all electric bus (EV). The California Highway Patrol has approved the ADOMANI all-electric Blue Bird school bus for use. The bus was developed through a partnership between the Gilroy Unified School District and ADOMANI and the result is a solar fueled EV 50 passenger type-D school bus. The converted school bus will debut this fall.
The Gilroy Unified School District provided ADOMANI with a 2007 Blue Bird All American diesel school bus, and by replacing the engine with their patented electric conversion kit, ADOMANI returned a plug-in electric. The bus has an overall range of 40 miles in between charges, tailored to meet the district's need of a 22 mile route. ADOMANI can supply a school or commercial bus with enough battery power to travel 100 miles.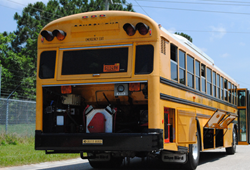 ADOMANI chose to utilize the same plug as the Chevy Volt and Nissan Leaf, making its buses adaptable to universal charging stations. The Gilroy Unified School District's charging station has been supplemented with solar panels, making the bus a zero emission vehicle.
Verbal approval of ADOMANI's converted school bus came one day after initial inspection. Recent ADOMANI board member addition and school bus industry expert Jim Reynolds said, "That is by far the fastest I have seen approval come in. I was anticipating a few months of processing."
This is ADOMANI's second converted Blue Bird school bus. ADOMANI has created a conversion kit specialized for the All American Blue Bird school bus that can be installed in a couple weeks. Ninety percent of the OEM parts are retained, allowing mechanics to remain familiar with parts like the transmission, compressor, radiator, alternator, etc. With the quick success of the project, the company plans to move their headquarters from Florida to California.
"After the conversion for Gilroy, moving to California seemed like the right fit, though we plan to retrofit vehicles throughout the country," said Edward Monfort, the founder and CTO of ADOMANI. "I am thrilled to be working with school buses and to have an opportunity to enter a market that can improve lives and the environment."