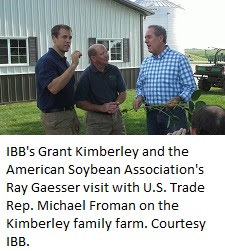 The prospect of Argentine biodiesel replacing U.S. biodiesel… while American biodiesel producers take a hit on the government's requirement for the amount to be blended… is something not sitting well with the green fuel's advocates in this country. U.S. Trade Representative Michael Froman got an earful about the issue while on a trip to Iowa, where he visited on the family farm of Grant Kimberley, executive director of the Iowa Biodiesel Board just outside Des Moines.
During Ambassador Froman's tour of the farm where the Kimberleys raise corn and soybeans on 4,000 acres, Kimberley discussed a concerning application made to the Environmental Protection Agency. Submitted by the trade association representing Argentine biodiesel producers, the organization is asking EPA to approve an "Alternative Renewable Biomass Tracking Requirement." If approved, it would in effect replace the stringent feedstock recordkeeping requirements of the [Renewable Fuel Standard (RFS)] regulations and allow Argentine biodiesel to qualify for the U.S. biomass-based diesel program under a more streamlined review process.
"The unfortunate fact is that if EPA approves Argentina's application, we could be looking at 600 million gallons or more of Argentine biodiesel imported to the U.S., displacing our own domestic production," Kimberley said. "We know this because an Argentinean tax subsidy would allow each gallon of biodiesel from Argentina to enter the United States at prices lower than biodiesel produced in the U.S."
"Flooding the market with Argentine biodiesel in addition to this sharp cut would lead to a devastating loss of jobs currently supported by the domestic biodiesel market," Kimberley said. "Until the proposed cuts, the RFS had been working as intended, but now we're in the unfathomable position of also replacing imported oil with imported biodiesel. It makes no sense."
The current RFS proposal would set biodiesel volumes at 1.28 billion gallons, about 600 million gallons… or the same amount threatened to come in from Argentina… less that what American biodiesel producers turned out last year. Kimberley said Ambassador Froman and his staff were aware of the issue and receptive to the Iowa Biodiesel Board's point of view.