Patriot Solar Group (PSG) has announced they are seeing success with their recently launched Spider ST roof mount system. The Spider ST is a polypropylene polymer-based roof mount for commercial flat roof applications. Because of its design and ease of use, the company says it offers solar installers unique cost saving features.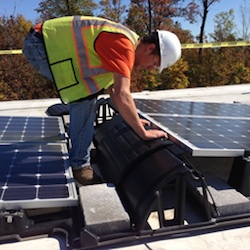 Although mounting systems are defined as "hardware costs," the the company says Spider ST reduces soft costs, which account for a large percentage of installed system costs for roof-top solar projects.
Patriot Solar Group explains its "snap together" design requires no tools for assembly and comes standard with integrated grounding – significantly lowering associated mechanical and electrical labor. The design to build process is shortened due to zero roof penetrations and lighter roof loading because of its airfoil wind deflector design.
"Projects are getting financed quicker and more easily because of our extensive research data, wind tunnel testing and UL 2703 compliance – thus further reducing associated soft costs," said Jeff Mathie, president of Patriot Solar Group, "Developers, building owners, roof manufacturers and financiers feel very comfortable using the Spider ST and we are seeing a stronger market acceptance towards polymer based materials for racking."