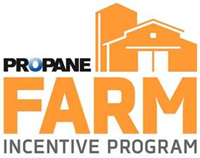 Farmers are being offered an incentive to use clean-burning propane in their operations. During the recent Commodity Classic in San Antonio, Tx., Mark Leitman, director of business development and marketing for the Propane Education and Research Council (PERC), talked to Tom Steever with Brownfield Ag News and told him that his council is funded by a 4/10-of-a-cent checkoff that helps research, safety and training programs, and includes a commitment to ag-based operations in the Propane Farm Incentive Program.
"We're constantly looking for new technologies to invest in, trying to find a new application for propane in agriculture or make a grain dryer, for example, and make it better," he said, adding that new propane engines are much more efficient than the older models, boosting output by 25 percent or more, as demonstrated from their non-scientific findings from last year's farm incentive program that had farmers reporting a 36 percent reduction in fuel use and 57 percent in cost savings. That's why he's optimistic they'll get more farmers to sign up for this year's incentive. "We'd love farmers to take advantage of our Farm Incentive program, where they could receive an incentive of up to $5,000."
Mark admitted a perfect storm of issues – big crop drying years and a colder than usual winter, among other things – did cause a significant spike in prices for propane this year, but he believes some important lessons were learned that will help his members keep prices more stable in the future.
"We're taking a look at the infrastructure and trying to figure out where our organization can invest in ways to improve things so we're better prepared moving forward," he said.
More information on the incentive program is available at Agpropane.com.
Listen to Mark's interview with Brownfield Ag News here: Mark Leitman, PERC
2014 Commodity Classic Photos