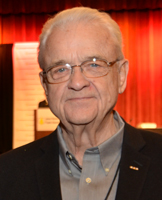 Eight term Iowa congressman Leonard Boswell is continuing to support renewable fuels in his state despite losing his re-election bid in re-districting last year to Tom Latham.
Boswell attended the Iowa Renewable Fuels Summit last month because it is something he says he cares deeply about. "I am so wound up in things like renewable fuels, it's just one of my passions," he said during an interview at the summit. "I will participate somehow."
The former Democratic congressman, who is a farmer, was disappointed that Congress was unable to get a farm bill passed last year. "We need a farm bill, you can't plan if you don't know the rules," said Boswell, who believes the House did have the votes to pass the bill that came out of the agriculture committee but they were never given the chance.
Listen to interview with Boswell here: Former Congressman Leonard Boswell