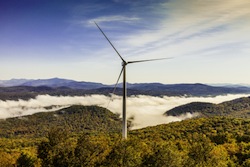 Iberdrola Renewables has completed three new wind energy projects in the U.S. The wind farms were all commissioned in December 2012, representing a total investment of approximately $700 million, and most of the power has already been purchased via long-term contracts. The three projects include:
The Manzana Wind Power Project located in Kern County, California includes 126 GE 1.5MW wind turbines, with the capacity to produce 189 MW of wind energy each year. Lease payments to landowners are estimated to be more than $30 million over the life of the wind farm.
The Hoosac Wind Power Project is located in Monroe, Massachusetts and expands into Florida, Massachusetts. The wind farm consists of 19 GE 1.5 MW wind turbines with the ability to generate 28.5 MW annually. Lease payments to landowners are estimated to be $3 million over the life of the wind farm.
The Groton Wind Farm is situated along two ridge features in the town of Groton, New Hampshire. The wind farm consists of 24 Gamesa G87, 2.0 MW wind turbines and has the capacity to produce 48MW per year.
"These projects have begun delivering the environmental benefits of clean, renewable energy, but they also create significant economic impacts resulting from hiring numerous local workers and companies, and making long-term tax and lease payments to the local communities," said Martín Mugíca, president and CEO of Iberdrola Renewables, LLC. "Each project represents the culmination of years of hard work, and we could not do it without the vision and support of our shareholders, customers and employees."
Earlier in 2012, Iberdrola Renewables completed a 46-MW project in Pennsylvania, a 100-MW project in Iowa and a 304-MW project in Ohio.