Several families in San Diego county will have a brighter 2013 as a result of the 2012 Solar Holiday Drive led by Sullivan Solar Power. Five low-income families were selected to receive free solar panels for their homes. The solar drive was part of a partnership with GRID Alternatives, a nonprofit that installs solar energy on homes for families who would otherwise not have access.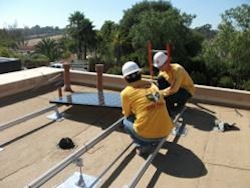 GRID Alternatives mobilizes job trainees and other volunteers, providing hands-on experience installing solar panel systems. As a part of the partnership, Sullivan Solar Power team members will be volunteering their time to assist the GRID Alternatives team with the donated projects.
"GRID Alternatives is thrilled to have partnered with Sullivan Solar this holiday season to bring the gift of clean green power to families who really need the savings," said Paul Cleary, Regional Director of GRID Alternatives.
Sullivan Solar Power donated one solar panel for each San Diego county resident who signed up with the company to go solar. Forty-six solar panels were donated as part of the promotion. Collectively, 46 locally manufactured Kyocera solar panels will be installed on low-income residences at no cost to San Diego homeowners as a result.
"The initiative ended more successfully than we had envisioned. We are blessed and grateful to be in a position to provide the gift of solar energy to families who need financial relief from high electricity costs most," added Founder and President of Sullivan Solar Power, Daniel Sullivan.