The Indiana State Department of Agriculture honored Thorntons Inc. as the recipient of the Paul Dana Excellence in Bioenergy Leadership Award. The honor was given during the Greater Indiana Clean Cities Coalition Holiday Reception by Indiana's Ag Director Joseph Kelsay.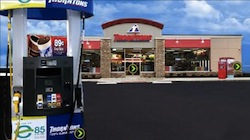 The Paul Dana Award was established by Governor Mitch Daniels and Lt. Governor Becky Skillman in 2006 after Indy Racing League driver Paul Dana was killed in racing accident. A strong supporter of biofuels, the award recognizes those who have shown exemplified leadership and innovative vision in the bioenergy industry.
"I congratulate the Thornton family for its entrepreneurial spirit, growing the fueling business from a single station in New Albany, Ind. in 1952 to be among Forbes Magazine's 500 largest privately held companies today," said Lt. Governor Skillman, who serves as Secretary of Agriculture. "We thank you for your support of Indiana and including mid-level ethanol blends and E85 at your stations."
Thorntons began retailing gasoline in 1952 with a single location in New Albany, Indiana, but the first "Thorntons" opened in Clarksville, Indiana in 1971.
The 2012 Greater Indiana Clean Cities Award Recipients:
Ethanol Blends Award – Thorntons Inc.
Propane/Autogas Award – Indiana Department of Transportation (INDOT)
Compressed Natural Gas Award – Palmer Trucks
Support of Multiple Alternative Fuels and Technologies (Silver BB's Award) – Ivy Tech Lafayette Automotive Department, Alternative Fuels Technical Training
BioDiesel Blends – North Central Co-op