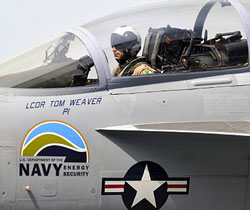 The U.S. Senate has repealed a provision in the defense department budget that would have prevented the military from developing the use of biofuel alternatives.
A coalition of organizations representing military biofuels supporters welcomed the news that will allow the Department of Defense "to continue research and testing of fuels that provide U.S. forces with enhanced military capability."
The Senate voted 62-37 to pass an amendment by Senator Mark Udall (D-CO) repealing section 313 of the FY2013 National Defense Authorization Act (NDAA), which prohibited DOD from procuring alternative fuels if they cost more than their conventional counterparts.
"Military leaders and security experts believe these initiatives are vital to our military's energy security," said Mike Breen, Executive Director of the Truman Project and spokesman for its clean energy campaign, Operation Free. "Our dependence on oil as a single source of transportation fuel endangers our national and economic security."
The House of Representatives has included similar language in its defense appropriations bill.