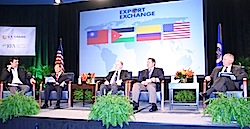 During the recent 2012 Export Exchange a few key leaders in the international market took the stage in a panel to share their perception on United States competitiveness in grain production.
Adel Yusupov, Southeast Asia Regional Director for US Grains Council, served as the moderator for the panel.
Panelists consisted of:
Willis Wu-Yeh Cheng, Chairman, Charoen Pokphand (Taiwan)
Mousa Wakila, General Manager, National Poultry Al Ahlieh (Jordan)
Jamie Rueda, General Manager, Escala (Colombia)
Dennis Inman, Vice President & Commercial Lead, Cargill, Inc.
The panelists were asked to share their candid thoughts on how the United States ranks in grain production and what attributes are most important to them when buying grain. Prices were at the top of all their lists, but they also want reliable market research and stressed that logistics were always a concern. Other items on the list included: consistency, a strong relationship and predictability.
Listen to the International Panel's presentation here: International Panel at Export Exchange
You can find photos from this years Export Exchange here: 2012 Export Exchange