A new Virginia Tech research center is set to open in Tamil Nadu in southeast India with the hope of refining and adapting windmills and solar panels for use in rural India households. With more than a billion people worldwide living in rural communities in extreme poverty, how energy production proceeds will have global impact. Windmills are being designed to work in areas of low and variable wind speed and the solar panels are being designed to work well in low-light conditions.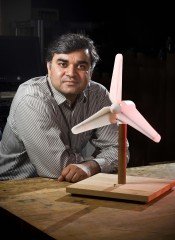 "The goal is to improve life for 400 million Indians not connected to the grid," said Guru Ghosh, vice president for international affairs. "There are still some refinements to be made on this amazing technology developed at Virginia Tech. We're aiming for the point where the solar panels and small windmills can be mass produced, tested in India's rural communities, and then be deployed to create low-cost, renewable energy worldwide."
Two years ago Virginia Tech announced an agreement with private-sector partner MARG Swarnabhoomi to establish the Virginia Tech, India campus. MARG Swarnabhoomi has committed $1.8 million for laboratory build-out, which will equal or exceed facilities at the Blacksburg-based Center for Energy Harvesting Materials and Systems, directed by Shashank Priya of the College of Engineering. Virginia Tech is underwriting staff and operations with an initial outlay of $350,000.
Virginia Tech hopes that the technology can help to solve some of the world's most pressing energy problems. The research center is called VT, India Institute for Critical Technology and Applied Science Innovation Center and is currently recruiting graduate students to work on the project.