A new Grain Council has been launched  by AgGateway, a non-profit association comprised of agribusiness organizations with the goal expanding electronic business within the ag industry. The Grain Council will identify, develop and implement standards and guidelines to bring eBusiness efficiencies to grain, oilseed and renewable-fuel companies.
"This marks an important expansion in the agriculture industry's eBusiness efforts," said AgGateway President and CEO Rod Conner. "These companies are dedicated to finding ways to streamline business transactions, enhance cost-savings, reduce waste and work for more sustainable agriculture practices."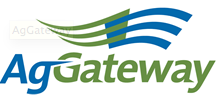 There are more than 150 members of AgGateway representing nine major industries: Ag Retail, Crop Nutrition, Crop Protection, Feed, Grain, Ornamental Horticulture, Precision Ag, Seed, and Allied Providers that includes systems and software developers and providers. The segments each operate a council within AgGateway and determine their own eBusiness priorities and projects. In addition, each council elects its own leaders who serve on AgGateway's Board of Directors.
The goal of the Grain Council is to identify and define industry business processes, electronic business messages, and information standards that support these processes. Once these decisions are decided, participating parties then follow through and integrate standards-based messaging into their business processes.
Charter members of the new Grain Council include Central Valley AG Coop, CHS Inc., Cultura Technologies, DTN, EFC Systems Inc., EMarkets Inc., Growmark Inc., Key Cooperative, MFA Inc., SSI, Telvent DTN Inc., and Triple Crown Nutrition Inc., among others. More information on the Grain Council and AgGateway's other councils will be presented during AgGateway's Annual Conference in Albuquerque, November 6-8, 2012.