The upcoming 2012 Republican National Convention being hosted by Tampa, Florida, shuttle buses will be fueled with compressed natural gas (CNG). The buses, coined GOP EZ Shuttles, will be transporting participants to hotels and local attractions. America's Natural Gas Alliance (ANGA) is coordinating with local TECO Peoples Gas and Ultimate CNG to provide the CNG fuel for the shuttles. ANGA says CNG provides significant cost savings over diesel-fueled buses. When compared to diesel, CNG costs about $1.69 less per gallon equivalent.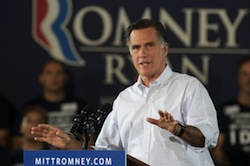 "We are proud to have this opportunity to provide transportation to convention participants in Tampa and to give them a first-hand experience with natural gas vehicles," said ANGA President and Chief Executive Office Regina Hopper. "Companies and local leaders across the country are embracing natural gas as a fuel choice and calling for more vehicle options and filling stations to help drive this change. Our message in Tampa and beyond is that this is an extraordinary opportunity for our nation, and it's time to get on board with this American fuel choice."
The city and surrounding areas such as St. Petersburg are not strangers to CNG. Some companies operating as part of the Hillsborough Area Regional Transit use the fuel for airport transit vehicles. Florida is the second largest natural gas user in the U.S., and the country is the larget producer of natural gas, which can be used for transportation, electricity generation or industrial purposes.
"As mayor, I have seen firsthand the benefits that natural gas vehicles can bring in terms of lower fuel costs and clean air. I am pleased to welcome natural gas buses to the convention. These buses will not only provide a cleaner, cheaper method of transport but will also connect the thousands of guests here for various convention events to our local attractions," said City of Tampa Mayor Bob Buckhorn.
William Harris, CEO of the 2012 Republican National Convention Committee on Arrangements added, "We're delighted that these 12 natural gas vehicles – what we call 'the Clean Dozen' – will be part of our convention. Energy independence is critical to Mitt Romney's vision of a better future for all Americans, which is what this convention is all about."
ANGA also will be providing buses for the Democratic National Convention in Charlotte, NC.