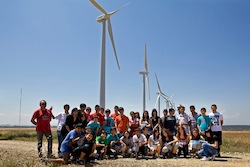 Today is Global Wind Day (June 15) and thousands of people will be participating in more than 200 events in at least 40 countries. With the focus on wind at a peak, many are using the events to put pressure on world leaders who will gather next week for RIO +20 Summit. It is anticipated that leaders will commit to doubling the amount of renewable energy generated by 2030.
Wind power has been gaining favor and today at least 75 countries use more than 1000 MW of wind power as part of their energy mix. This is more than 30 times the amount of capacity since 1997 when the Kyoto protocol was signed. Projections continue to predict growth over the next 20 years with the doubling of capacity by 2015 and again by the end of this decade. If this is achieved, between 9-12 percent of the world's power would be generated by wind power.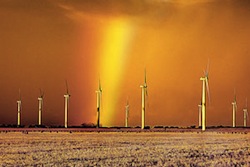 UN Secretary General Ban Ki-moon's will be speaking in Rio about his Sustainable Energy for All initiative that calls for universal energy access with a doubling of renewable energy by 2030. More wind power would reduce the use and spending on fossil fuels, create millions of jobs, clean the air, and address issues related to global climate change.
"We need to double the share of renewable energy in the global energy mix by 2030," said Kandeh K. Yumkella, the Director-General of the United Nations Industrial Development Organization (UNIDO), and the leader of the Secretary General's initiative. "This can be achieved with significant contribution from wind energy, both grid connected and for small-scale decentralised systems."
"The 'Global Wind Day' on 15 June, does play a central role in contributing to the UNSG's Sustainable Energy For All initiative through galvanising the much needed support for the wind energy industry from political leaders around the globe," added Yumkella. This is the 4th Anniversary of the world wide event.
Steve Sawyer, Secretary General of the Global Wind Energy Council concluded, "Wind energy provides a solution to some of the most critical challenges we face today: climate change, and fresh water scarcity. The power sector is the single largest contributor to global greenhouse gas emissions, and is also one of the largest consumers of fresh water. Wind energy produces no carbon dioxide, and consumes no water."