The ethanol industry was in full force this past Sunday during the NASCAR Toytota/Save Mart 350 race at Sonoma Infineon Raceway. The winner of the race was Kurt Busch driving the #22 car and ethanol-sponsored Clint Bowyer #22 finished in fourth place. Rounding out the top spots were Jeff Gordon #24 finishing second and Carl Edwards #99 finishing in third place.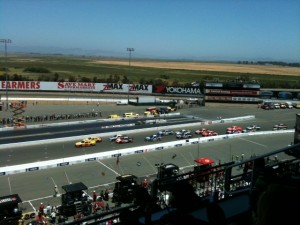 Among the estimated 100,000 fans at the race was ethanol enthusiast Paul Wikoff. He reported, "The air was full of the loud sound of E15 fuel powerfully propelling these cars forward at speeds averaging over 90 miles per hour on this twisty track of 1.99 miles, with 110 laps for completion." The track has 11 turns and cars finishing the race completed 1, 210 turns, a different challenge compared to the traditional oval track.
The National Corn Growers Association hosted dozens of ethanol enthusiasts during the race and Dr. Mike Lynch, Managing Director of Green Innovation for NASCAR, made a visit to the grandstand box sponsored by American Ethanol. Lynch is credited with helping to bring Sunoco Green E15 to NASCAR and said during his remarks that the drivers and the dyno testing witness the added horsepower gain for the race cars.
Darrin Ihnen, Chairman of the National Corn Growers Association, was also in attendance and voiced his special gratitude to those in California that have embraced clean, renewable, and domestic ethanol fuel. The ethanol industry has been facing some hurdles in recent months with proposed legislation that would make ethanol ineligible for state funding programs including the California Ethanol Producer Incentive Program.