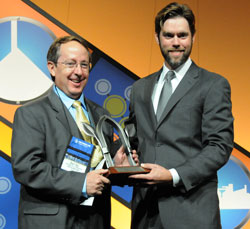 This morning at the 2011 International Fuel Ethanol Workshop, the 2011 Award of Excellence was presented to Dr. Bruce Dale, Michigan State University, by BBI International VP, Tom Bryan.
Dale, professor of chemical engineering and associate director of the office of biobased technologies at Michigan State University, received the award for his extensive research in the areas of indirect land use change (ILUC) and the production of cellulosic ethanol. Earlier this year, he co-authored an analysis of ILUC which found no correlation between U.S. biofuel production and land use change in other countries.
In accepting the award, Dr. Dale recounted how he was the son of a mining engineer and that the towns where he grew up are now ghost towns because the ore has been depleted. "Because the industry on which they were based is not a renewable industry," he said. When he became a chemical engineer and realized that he was most likely to end up working for the oil industry, he committed himself instead to develop large-scale renewable fuels.
Listen to the rest of his remarks here: Dr. Bruce Dale Remarks
Our coverage of the 2011 Fuel Ethanol Workshop is being made possible by the Renewable Fuels Association.