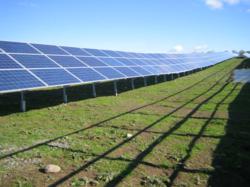 Next time you visit Italy there will be a new "eco-tourist" destination. A solar farm is up and running in the municipality of Castel Giorgio in the region of Umbria Italy. The solar farm is nestled among farming land on the summit of a high plateau a few miles from Lake Bolsena a popular agrotourism area. The 2 megawatt system consists of 8,350 solar panels and spans 14-acres. It is now one of the largest concentration of photovoltaic modules on one site in the region and was designed by Canadian Solar and will be operated by ESA. Enel, Italy's largest power company, will purchase the electricity generated by the system through the feed-in-tariff program at a predictable rate.
"This new solar farm builds on Canadian Solar's rich heritage in serving Italy's vibrant renewable market, and we're pleased to partner with ESA to bring clean energy to Umbria," said Shawn Qu, CEO of Canadian Solar. "This 2 MW project demonstrates Castel Giorgio's energy leadership. It's a testament to the quality and efficiency of our modules that Canadian Solar was chosen to be part of one of the largest solar project in the municipality."
The project utilized 4,150 Canadian Solar panels and 4200 Trina Solar panels. The solar system has the ability to generate 3.1 million kilowatt hours kWh per year, or will produce enough energy for 300 averaged-sized home. The technology allows ESA to monitor the system from anywhere in the world.
"Projects like our solar farm demonstrate a fundamental shift in the value of renewable energy sources," said Mariano Lopez, CEO of ESA. "We're proud to have commissioned this array because it represents positive movement towards achieving energy independence. We have no intention of stopping here. We have upcoming plans that include additional large-scale solar installations — because renewable energy is definitely the way of the future."