Mississippi Solar is getting excited for the National Solar Tour, an event that showcases solar energy for home buyers, businesses and everyone in between. The event is overseen by the American Solar Energy Society (ASES), and this year more than 650 tours are already scheduled for early October. This is the second year that Mississippi Solar will participate in the natural grassroots event.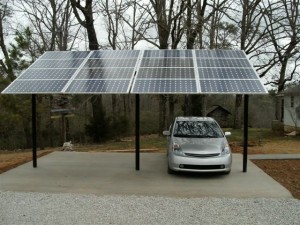 "The appetite for solar in America's southeast is growing, and Mississippi Solar's Will and Carolyn Hegman are serving up some mouth-watering, cost-effective ideas to feed that hunger during their "Down on the Farm Solar Tour,'" said ASES National Solar Tour Manager Richard Burns. The tour is part of the non-profit American Solar Energy Society's National Solar Tour, the world's largest grassroots solar event.
The "Down on the Farm Solar Tour" takes place October 2, 2010 from 9 am to 4 pm at 211 Popes Road, Carthage, Mississippi, 39051. Guided tours, which run every two hours beginning at 9 am, will highlight three distinctly different grid-tie installations. The first is a 2.4 kW solar carport ready for Tennessee-made electric vehicles rolling off assembly lines next year. Also featured is a ground-mount system with battery back-up. However, homes are not the only stop on the tour. Participants will also see the 8.4 kW, solar PV solution that sits atop a chicken house located at Spencer Pope Farms.
"We're in the business of solar, but here in Mississippi we're also in the business of educating. That's what this tour is about," said Hegman. "There are so many myths we're battling, like there's not enough sunshine to make solar viable – or that solar is just a fad. Truth is, all production figures for our solar installations have exceeded forecast projections thus far."
Schools are getting involved in the tour by hosting their own solar day. In addition, the Choctaw Central High School, winners of the Hunt-Winston Solar Car Challenge, will also have their car on display. Click here to learn more about the "Down on the Farm Solar Tour."