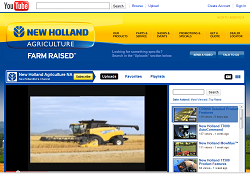 Long-time supporter of biodiesel New Holland has launched a new YouTube site, featuring all things farming, including New Holland's long line of farm implements that run on biodiesel … some of those up to B100 blends.
"Our YouTube channel creates an incredible opportunity to broadcast our brand and engage our audience with compelling content," says New Holland's North American Senior Director of Marketing David Greenberg. "We plan to keep adding new videos weekly that inform and entertain. We invite all viewers to subscribe to the channel and upload your agriculture, outdoor and farming related videos."
There's six different channels that feature a variety of showcase videos, including the world's largest combine setting a Guinness World Record, product overviews, operating tips from equipment experts, and testimonials from those who use New Holland's products.
Check it out here.