Pacific Power Management (PPM) and the city of Auburn, California recently announced that the city's wastewater treatment plant is going to be 100 percent powered by solar energy. A 680 kilowatt solar photovoltaic (PV) system will supply all of the plant's electrical needs by this summer when the project is slated to be completed.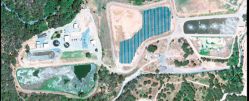 The photovoltaic system will consist of more than 3,300 panels installed on a single-axis ground mount trackers. An unusual aspect of the project is that the city will buy power from PPM, not a utility company. As part of this 20-year agreement, PPM will pay for the installation of the panels as well.
"The City of Auburn took advantage of Pacific Power Management's shared savings program to build and host an emission-free solar power plant at their facility with no upfront capital expenditure," said Kelly McMahon, Vice President of Business Development for PPM. "We applaud the City of Auburn for taking the lead with this showcase installation that demonstrates how solar makes good financial sense for public agencies today."
The city treatment plant is located west of the city of Auburn in the Ophir area. The solar array system will generate an estimated 1,248,821 kWh of clean solar energy in the first year of operation. That is enough energy to power 112 homes for one year. Over 20 years, the system will generate more than 24 million kWh of energy –enough energy to power over 2,240 average U.S. homes for one year.