Farmers and small business have found a crop to make them more money – clean energy. This according to a recent report from the Environmental Lay & Policy Center (ELPC) which just released "Farm Energy Success Stories" that demonstrate how a farm or small rural business adopted clean energy technologies and cut energy costs. Examples cited in the report include a Montana brewery that runs on solar power and an Illinois dairy that generates electricity from manure. Much of the monies that made these projects possible came from the Farm Bill's Rural Energy for America Program (REAP).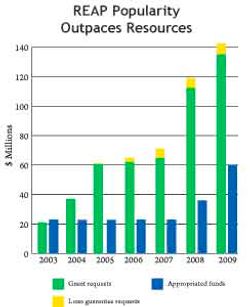 "With the help of farmers, ranchers and rural small businesses, America can make great strides toward solving its energy problems." said Andy Olsen, Policy Advocate for ELPC. "REAP is creating economic development, energy independence and a cleaner environment one farm at a time."
Since 2003, REAP has funded over 3,000 clean energy projects, in 50 states that cover the clean energy spectrum – wind, solar, geothermal, biomass and energy efficiency. The United States Department of Agriculture (USDA), which oversees the program receives applications for more than three times the amount of funds available, and in February, President Obama raised the funding levels to the highest amount ever to $109 million.
ELPC has been a public supporter of the program since its inception and notes that the program,"leverages billions in private investment, reduces pollution, builds interest and awareness about the benefits of clean energy." Many legislators support the program as well and Represenative Colin Peterson (D-MN) commented, "This is the kind of common sense program that will help transform rural America into an energy resource for the entire nation."