"Biodiesel is a great fuel. It's a great success story," said Rob Joslin, the President of the American Soybean Association when I asked him during an interview (see below for audio) why biodiesel is so important to our country. While the biodiesel has had great success, it is currently facing a challenge – the $1 per gallon tax credit expired at the end of 2009 and has yet to be extended, although it is close.
Joslin explained to me that biodiesel is not just important for farmers and the industry itself, but also for consumers. A recent Department of Energy study showed that the biodiesel tax incentive saves consumers 35 cents per gallon at the pump. The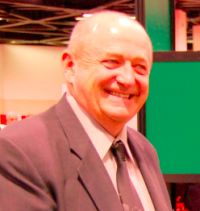 biodiesel industry contributes $4 billion dollars to the country's gross domestic product and generated over $866 million in direct tax revenue back into the tax coffers. In addition the industry provides 29,000 direct jobs and the number exceeds 50,000 when you factor in the indirect jobs associated with the production of biodiesel.
However, with the tax credit off the table, more than 23,000 workers have been idled. "The majority of the industry is idled because you can't run a business on the hope that Congress will pass a bill in a future point in time," said Joslin. "So the economies didn't work the plant managers had to put those people in unemployment."
Anther conundrum the industry is facing is the lack of synergies between current pieces of legislation. The RFS mandates biodiesel use and the Low Carbon Fuel Standard recognizes its low-carbon benefit; yet, our government hasn't put into place the mechanisms for the industry to produce competitively priced fuel while it matures.
"It's hard to understand, but commonsense does not always end up as public policy. I hate to say that, but one way that Congress works is they put packages together to get them to move. We believe the biodiesel tax incentive has strong support across Congress," said Joslin.
And it should have strong support when you understand how biodiesel benefits consumers."I kind of feel like I've been to the alter a couple of times and haven't walked away with a ring on my finger. But I do believe we will get this passed."
Joslin hopes that once it is passed it will become retroactive until January 1. From there, his organization will begin to work on a five-year tax extension so that the biodiesel industry is not idled again in the near future.
You can listen to my interview with Rob below.