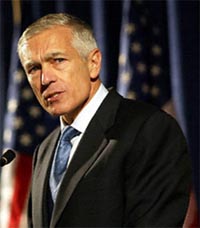 General Wesley Clark, Co-Chairman of Growth Energy, will be the featured speaker at an upcoming Canadian Renewable Fuels Association (CRFA)luncheon and dinner on Tuesday, September 29, 2009.
The Ottawa Luncheon, Energy Security: The Future of North American Energy, will be held Tuesday 11:45 am – 1:30 pm at the Fairmont Château Laurier. The Toronto Dinner, A fire-side chat with General Wesley Clark , will be moderated by Financial Post Editor at Large, Diane Francis at 6 pm at The National Club.

General Clark rose to the rank of four-star general after nearly 40 years of service in the U.S. Army. He has lead Growth Energy since February 2009, working to increase American energy independence by expanding the use of environmentally-friendly ethanol.
For more information on the September 29 events, click here.