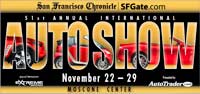 Luxury vehicles, exotic new rides, and the latest in domestic developments are all part of any auto show. Add to that list the environmentally-friendly aspects of a new car at this year's San Francisco Chronicle|SF Gate.com 51st Annual International Auto Show.
This story from the Chronicle has the green details about the week-long event slated to start on November 22nd:
If your interests range more toward eco-friendly vehicles, you're in luck. AAA's Greenlight Initiative Showcase returns with an exciting collection of alternative fuel vehicles. This year's showcase will feature five alternative fuel vehicles including a PHEV (Plug-in Hybrid Electric Vehicle) from CalCars that gets more than 100 miles per gallon, a VW Jetta that runs on both biodiesel and vegetable oil, a hydrogen fuel-cell vehicle from the California Air Resources Board and AC Propulsion's eBox – an all-electric conversion of the popular Scion xB. In addition, visitors to the AAA booth can see a live demonstration of a Prius being converted to a plug-in hybrid. AAA Members receive two-for-one admission to the show Nov. 24 to 26.
More details are available at www.sfautoshow.com.