In response to recent media reports which have blamed the ethanol industry for the rising price of corn, animal feed, and food, the Clean Fuels Development Coalition (CFDC) will hold a webinar on Wednesday, September 24 at noon central time.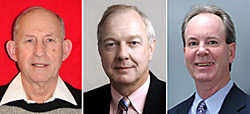 BioFuels Journal will host a webinar sponsored by CFDC and the Ethanol Across America Education Campaign, titled "The Impact of Ethanol Production on Food, Feed and Fuel." Presenters will include: Terry Klopfenstein, animal sciences professor at the University of Nebraska, Lincoln; Dr. Harry Baumes, associate director, office of chief economist, office of energy policy and new uses, USDA; and Todd Sneller, administrator of the Nebraska Ethanol Board.
Highlights of the webinar will include:
How ethanol is actually saving money for consumers (lowering retail gas prices).
How by-products of ethanol production replace protein and energy feeds (increased use of distillers dried grains with solubles).
Who the real culprit is in the rising price of food and feed (rising energy costs).
Who the real culprit is in the rising cost of corn (high oil prices).
What would happen if biofuels mandates were removed (rising foreign oil imports and fuel costs).
For more information, or to register, click here.