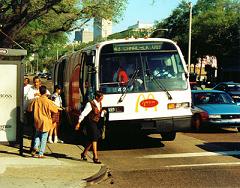 Nearly three years after Hurricane Katrina slammed into New Orleans, destroying a large portion of the city and trashing more than half of its 370 buses, the city is getting some public transportation fueled by biodiesel.
The New Orleans Times-Picayune reports that the eight new biodiesel buses arrive just as skyrocketing gas prices are helping increase ridership:
The vehicles were built by the Orion bus company based in Ontario, Canada. At 35 feet long, the bus is smaller than the standard RTA coach.
Currently, 29 of the buses are in the New Orleans area, with 10 more arriving from New York in the next few months.
The release of the brand-new buses comes at a time of increased reliance on the RTA. From April and May of 2007 to April and May of this year, ridership has increased 53 percent, RTA spokeswoman Rosalind Cook said.
Many of the new riders have been using public transportation in light of rising gas prices, Cook said.
These new buses are more comfortable than the older buses and have better access for riders with disabilities. Plus, of course, they run on cleaner-burning, renewable biodiesel.