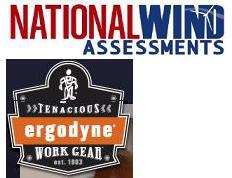 A Minnesota-based wind energy development company has received an endorsement from a maker of safety gear and clothing for the construction industry.
This press release from National Wind Assessments says the wind energy company picked up the product endorsement from Ergodyne. But why a deal of this kind?:
"National Wind Assessments and its parent company, National Wind have received a lot of press coverage and will soon be featured in an episode of Sustainable Planet, on National Geographic. When the filming takes place, they will be wearing our products," says Howard Huber, Marketing Director, Ergodyne Work Gear. "We strongly believe in creating partnerships and relationships with high profile companies such as this, to showcase our innovative products."
National Wind Assessments will utilize the company's safety products, such as gloves, outerwear, elbow pads, back supports, and visibility vests when they complete on-site installations of meteorological towers and when they are photographed and filmed. National Wind Assessments will be featured in Ergodyne's upcoming promotional materials.
"We are thrilled to endorse Ergodyne," says Kevin Romuld, President of National Wind Assessments. "We feel a bit like a sports superstar. However, our employees love the gear and it helps us do our jobs safely. Ergodyne has a great, high-quality product line."
As you might remember from my May 20th, 2008 post, National Wind has been selected to put in 10 meteorological towers in Northern Nebraska and will be using the Ergodyne products. The company has also completed advanced wind resource analysis for more than 100 wind energy projects across the United States.