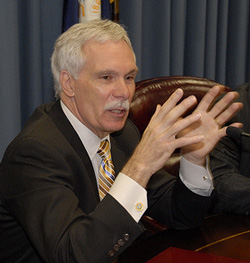 U.S. Secretary of Agriculture Ed Shafer is defending biofuels ahead of next week's United Nations conference that will address the growing world food crisis.
This story in the New York Times says Shafer is taking a stand that biodiesel and ethanol are making a minimum contribution to any price hikes in food worldwide while making a major contribution to extending world energy resources:
Mr. Schafer took the offensive at a press conference on Thursday that discussed the food summit, planned for Rome. He said an analysis by the Agriculture Department had determined that biofuel production was responsible for only 2 to 3 percent of the increase in global food prices, while biofuels had reduced consumption of crude oil by a million barrels a day.
"We think that policy-wise in the United States of America — and certainly in the rest of the world — as we see the price of oil and petroleum escalate dramatically beyond anyone's imagination, that one of the ways to deal with that is to produce biofuels which are renewables, better for the environment and help lower that cost," he said.
Mr. Schafer's remarks came as ethanol and biofuels are coming under increasing criticism from foreign leaders and members of Congress, as grocery prices climb in the developed world and malnutrition and hunger threaten to spread in the poorest nations.
Even a report critical of biodiesel and ethanol… released just hours before Shafer offered his counterpoint… admits that drought has played a major factor in food price hikes, and prices are expected to go down as weather returns to normal.