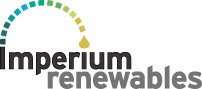 Seattle-based biodiesel giant Imperium Renewables seems to be hitting some tough times lately.
The latest news from the Seattle Post-Intelligencer says the company is laying people off:
The Seattle biodiesel producer, which employed 107 people in mid-August, did not provide specific numbers. It issued this short statement when asked about the layoff by the P-I's Andrea James.
"Imperium Renewables has reduced its corporate workforce. The move is part of an ongoing restructuring plan that realigns the company to address short term challenges and ensure the company's long term growth. These changes do not impact production of biodiesel at Imperium Grays Harbor."
This news comes on the heels of last week's postponement of the company's initial public offering (see my Jan. 3rd post) and chief executive Martin Tobias either leaving or being told to leave the company last month (see my Dec. 27th post).
There's not a lot of information on why all of this is happening right now for Imperium, but speculation is that rising feedstock prices, including soybean oil, is putting the squeeze on the company.