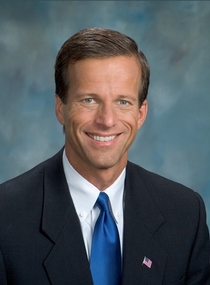 Senator John Thune (R-South Dakota) is asking Congress to extend the Renewable Energy Production Tax Credit, which will expire next year, through 2012. The incentive is a two-cent-per-kWh tax credit for renewable electricity production. This story on the Black Hills Today web site, says the credit makes wind energy more competitive:
"As our nation's energy demands continue to grow at record speed, our dangerous dependence on foreign sources of energy puts America in a more vulnerable position than ever," Thune said. "To avoid a looming energy crisis, we need to explore every possible source of renewable, home-harnessed energy, such as wind power—an under-utilized resource that has the potential to provide cost-effective energy to millions of Americans."
Thune is so interested in wind power because of the potentail it holds for his state. The article goes on to say that researchers estimate South Dakota is capable of producing 566 GW of electrical power from wind… more than half of the entire country's demand. Right now, though, the state produces only 44 megawatts… far behind its neighbors Minnesota and Iowa, which produce 895 MW and 936 MW, respectively.