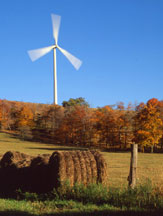 If the Iowa Utilities Board approves it, an expansion by a major wind energy producer in Iowa will nearly double that state's wind power generation capacity.
According to this story on RenewableEnergyAccess.com, MidAmerican Energy wants to add 540 megawatts of wind energy production.
"In addition to the environmental benefit of adding new wind energy production in Iowa, customers of MidAmerican Energy will continue to benefit from electric rate stability," said Greg Abel, president of MidAmerican Energy Holdings Company.

MidAmerican currently runs 323 wind turbines at three sites in northwest, north central and west central Iowa, generating 459.5 MW of electricity. That's enough power for about 144,000 homes.
"Iowa has become a national leader in wind energy not through mandates, but by offering incentives and utilizing a cooperative approach involving utilities, lawmakers, regulators, equipment manufacturers and even schools," said Iowa Senate Majority Leader Mike Gronstal of Council Bluffs. "This is one more major voluntary project that will help Iowa maintain its leadership position on renewable energy."
Iowa Governor Chet Culver wants to see the amount of wind energy in his state double again to more than 2000 MW.