As predicted in the Detroit Free Press and reported here yesterday, Michigan Governor Jennifer M. Granholm has called for $100 million dollars in public and private money to be put into alternative energy investments.
From the speech posted on her website: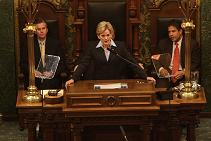 This new industry, so critical to our economy, our national security, and our environment is already setting up shop in Michigan. With other states clamoring for this opportunity, Michigan cannot afford to wait.
Tonight I am announcing that we will begin an aggressive, three-year effort to attract even more alternative energy companies to Michigan through more than $100 million in combined public-private investments. This will include the green technology companies that will make Michigan a leader in building the products that reduce the emissions that cause global warming.
Next, I will ask this Legislature to set ambitious goals for our state, so that within eight years, a minimum of 10 percent of our energy will come from renewable sources. And we will double that goal in the decade after that.
I will also ask you to expand alternative energy renaissance zones to attract new solar and wind energy companies. .
Finally, by 2008 we will have 1,000 ethanol and bio-diesel pumps at gas stations across the state so you can put ethanol in your gas tank;
In the 20th century, we were the state that put the nation on wheels.
In the 21st century, Michigan can be the state that breaks our nation's dependence on foreign oil!
To put this into perspective, the state is facing a major budget crisis… projected to be $800 million in the red this year and $3 billion by next year…. that Granholm is proposing to fix, at least in part, with budget cuts. So, to see alternative fuels getting such a commitment is really a testament to what the governor believes they'll return to the state.