The end of this week mark's the final countdown to the Environmental Protection Agency's (EPA) final rule for the 2014, 2015 and 2016 required volumes for the Renewable Fuel Standard (RFS). To continue to gain support for the renewable energy legislation, Iowa-based America's Renewable Future (ARF), has tapped in to Bachelor Chris Soules' fame, who is an Iowa farmer, to raise awareness of the benefits of the RFS. He is also sharing the message of the importance of caucusing for pro-ethanol, pro RFS candidate for president.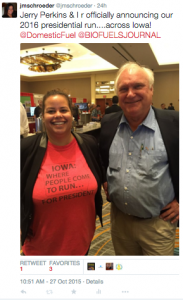 "As a farmer and an Iowan Chris knows firsthand just how important the Renewable Fuel Standard (RFS) is to preserving 73,000 Iowa jobs, our agricultural economy, and our environment," said ARF Co-Chair Rep. Annette Sweeney, "We are thankful that he is using his voice to tell Iowans about the choice we face this election. The choice is stark—politicians who do Big Oil's bidding and want to repeal the RFS and candidates who stand with Iowans and support this commonsense policy."
ARF has been following the candidates' views on biofuels and the RFS, as have we at DomesticFuel, during the campaign process and this week marked the 100 day countdown to the Iowa caucuses. (And in case you missed it, yesterday fellow Iowa-based journalist Jerry Perkins with Biofuels Journal and I announced our "run" across Iowa for the 2015 presidency at the Advanced Biofuels Conference and Expo in Omaha Nebraska. Running T-Shirt compliments of Fleet Feet Sports in Des Moines, IA.)
The video shows Soules on his farm in Northeast Iowa as he harvests field corn, which will eventually be turned into ethanol and Distiller's Grain (DDG) for livestock feed. For farmers like him, the RFS protects his livelihood and the economic well-being of his tight-knit rural town of Arlington.
"Choosing who to caucus for is a very important decision – especially for Iowa farmers. We need to know if the candidates support the RFS and if they'll defend this industry for farmers like me," says Soules says in the video. "I hope you'll join me in caucusing February 1st for a presidential candidate who stands with us and protects our livelihood through the RFS."