The Weather Channel recently featured a segment filmed at the Honda Transmission Manufacturing of America plant located in Russells Point, Ohio that includes an onsite wind project developed by Juhl Energy and is owned and operated by ConEdison Solutions. David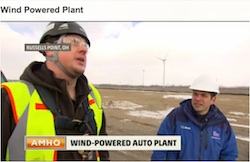 Malkoff visited the plant that is the site of the first major auto manufacturing facility in the U.S. to get a majority of its electricity from wind energy located on its property.
The two operating wind turbines, with blades that are approximately 160 feet long installed on 260-foot towers, are expected to supply nearly 10 percent of the plant's electricity. Based on their location and actual wind speeds, the combined output from the two wind turbines is estimated at 10,000-megawatt hours (MWH) per year.
Tyler Juhl, VP of Juhl Energy Services, Inc. provided Malkoff and his production team with access to the towers and the amazing views from the top of the turbines. "It was great having The Weather Channel at the Honda facility and giving them an opportunity to show that renewable energy definitely has applications for the traditional manufacturing industry," said Juhl.
"Wind power is our country's fastest-growing energy source, and The Weather Channel's coverage is an ideal way to help Americans appreciate wind power's many applications," said Jorge Lopez, CEO of ConEdison Solutions. "We are delighted that The Weather Channel chose to showcase this facility."