Bloomberg New Energy Finance has released the 2014 installment of the Sustainable Energy in America Factbook. The resource was developed for The Business Council for Sustainable Energy, and found that renewable energy, natural gas and energy efficiency advancements are leading a transformation of America's energy.
The 2014 Factbook documents the upward trajectory of energy efficiency, natural gas and renewable energy, using the latest data from 2013. The report finds renewable energy provided 13 percent of U.S. electricity generation in 2013, up from 12 percent in 2012 and just 8 percent in 2007. At the same time, renewable energy costs reached all-time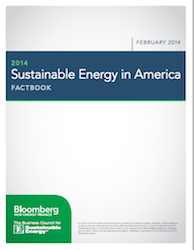 lows, allowing clean energy, with the aid of incentives, to be cheaper than fossil fuel electricity in some parts of the country. Small, distributed generators and off-grid installations, meanwhile, began to emerge as a transformative force in the power industry. Financiers who back small-scale solar systems have raised nearly $6.7 billion since 2008.
"The U.S. energy transformation that began in the mid-2000s gained additional momentum in 2013," said Lisa Jacobson, president of The Business Council for Sustainable Energy. "The Factbook plays a vital role in chronicling this fast-moving transformation, which is creating whole new industries and thousands of new jobs in the energy efficiency, natural gas and renewable energy sectors."
The factbook also found that energy efficiency financing is on an upward trend. Spending by energy service companies and by electric and gas utilities totaled more than $12 billion in 2012. Today 31 states and the District of Columbia, representing 77 percent of the U.S. population, have legislation in place to enable the financing of energy efficiency via property-assessed clean energy programs (PACE). Technology for smart grid and for smart homes is making its way into the market and has potential to be pervasive in the future, driving even further efficiency gains in the years ahead.
"The changes unfolding in the U.S. energy industry have been profound and, by the typical time scale of the industry, abrupt," said Michel Di Capua, Head of North American Analysis for Bloomberg New Energy Finance. "The effects of these changes will be felt in seemingly every nook and cranny of the American economy, from military bases to manufacturing plants, from homes to highways. 2013 saw some detours from the long-term trends, but overall, it is clear that the long-term transformation of how the U.S. produces and consumes energy continues." Continue reading →