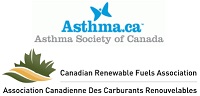 Our friends north of the border are breathing easier thanks to biodiesel. This news release from the Asthma Society of Canada and Canadian Renewable Fuels Association says cutting vehicle emissions is key to improving air quality, and the groups are joining forces to get Canada to increase its current 2 percent renewable fuel content requirement to a 5 percent blend by the year 2020.
Biodiesel and renewable diesel cut hydrocarbon emissions by more than 95 percent when compared to petroleum diesel. Its use in conventional diesel engines substantially reduces emissions of unburned hydrocarbons, carbon monoxide, sulfates and particulate matter.
Renewable diesel also reduces aromatic compounds—whichh are known carcinogens—by more than 75 percent and emissions of smog-forming particulate and carbon monoxide by 50 percent compared to traditional petroleum diesel.
"Any regulation that reduces emissions produced by diesel-powered vehicles is good news for people with asthma, respiratory allergies and other lung illnesses," said Asthma Society of Canada president and CEO Robert Oliphant. "There is a direct link between asthma exacerbations, hospital admissions, and untimely deaths and dirty fuels. Speeding up the process of blending more renewable biofuel would lead to a healthier Canada."
"The more biofuels we use in our fuel pool, the greater the environmental and health benefits will be," said CRFA president W. Scott Thurlow. "Higher inclusion rates for renewable fuel products will make our air cleaner and help our communities breathe easier. At the same time, expanding renewable diesel use into other sectors, such as public transportation and rail, would help reduce smog and emissions in some of our most congested cities and communities."
The groups say about 21,000 Canadians die from heart and lung diseases brought on by breathing polluted air every year, with asthma accounting for approximately 80 percent of chronic disease cases and continuing to be a major cause of child hospitalization.