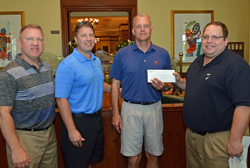 Because of today's beautiful weather in Orlando, FL, everyone is a winner at the annual golf tournament of the National Ethanol Conference. We had about 130 golfers playing today.
Here is the winning team receiving their cash prize from Alex Obuchowski, RFA CFO. I'll get the names and add them later.
Attn Golfers: You can find your team photo in the online album, click on it, then right click to download the size you want right to your computer. Please enjoy and share.
2014 National Ethanol Conference Golf Tournament Photo Album