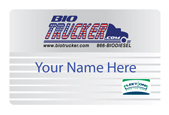 The first-ever biodiesel fuel card has been unveiled. National Biodiesel Foundation (NBF) today introduced the BioTrucker Fuel Card, which highlights the availability of biodiesel with a network of truck stops that carry biodiesel.
This press release from the National Biodiesel Board, the parent group for the NBF, says the card allows truckers and fleets pay a cash price (while having the convenience of a credit card) on all fuel and no fuel transaction fees for biodiesel at in-network of 4900 truck accessible retail stations across the U.S. In addition, Sapp Bros. Travel Centers (Peru Ill.), Waddy Unocal 76 (Waddy, Ky.) and Drivers Truck Stop (Ft. Worth, Texas) are giving card holders a two-cent-a-gallon discount:
"Being one of the first truck stops to offer a discount for BioTrucker Fuel Card holders is very exciting to us," said Kevin Cassidy, Marketing Manager, Sapp Bros. Travel Centers. "We are huge supporters of biodiesel and this program will generate interest and awareness."
The initial in-network list of 149 truck stops will continue to grow as more truck stops sell biodiesel and accept the BioTrucker Fuel Card. In-network truck stops include large chains and independent stops.
"We are pleased that our stop is part of the BioTrucker Fuel Card network," said Karlene Saunders, Owner, Stockton Travel Centers. "This is a great program for helping truckers find biodiesel."
The BioTrucker Fuel Card gives trucking companies and owner operators an easy way to pay for fuel, access cash advances, and pay for repairs and other expenses while on the road. Card holders pay the cash price for all fuel, instead of a credit price. ProMiles mapping software is a partner that provides incentives for using its software – the only mapping software for the trucking industry that shows biodiesel locations. Discounts on repairs and tires as well as road side assistance are also available through the card.
Those who want to sign up for the Biotrucker Fuel Card and to find out more information can click on the BioTrucker.com web site.